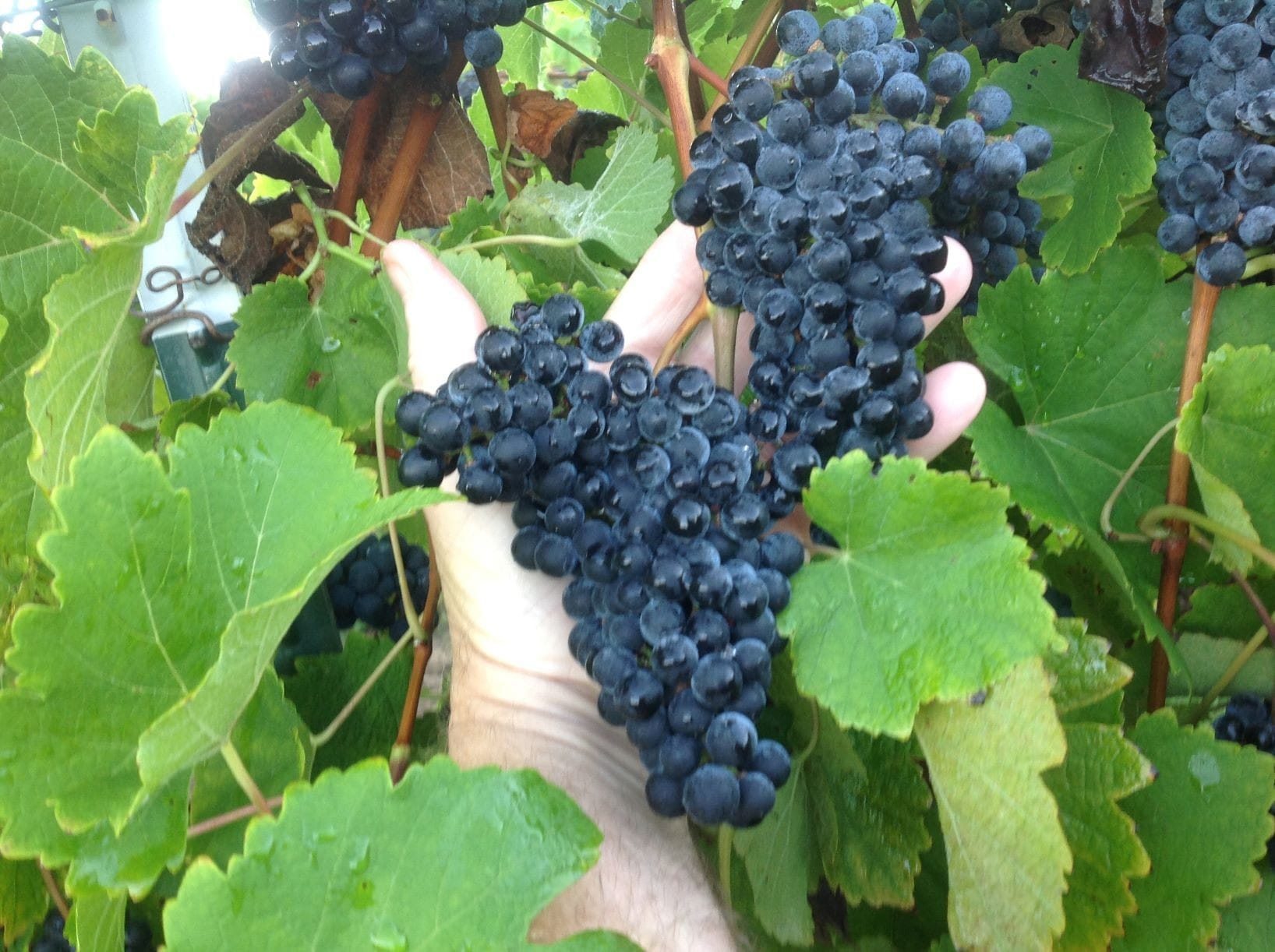 Cabernet Sauvignon X Norton
Combining Cabernet's wine quality with Norton's winter hardiness and disease resistance. The wine is 100% vinifera in character. In lighter years it resembles a Pinot Noir in the style of a Côte de Nuits. In bigger years the wine behaves like a Saint-Émilion. It is capable of very long aging. The grapes ripen very late, with Norton, which results in a cooler harvest and the best wine quality. The canes have a drooping growth habit like Norton so the vine is well adapted to high wire trellising, although many growers have it on VSP.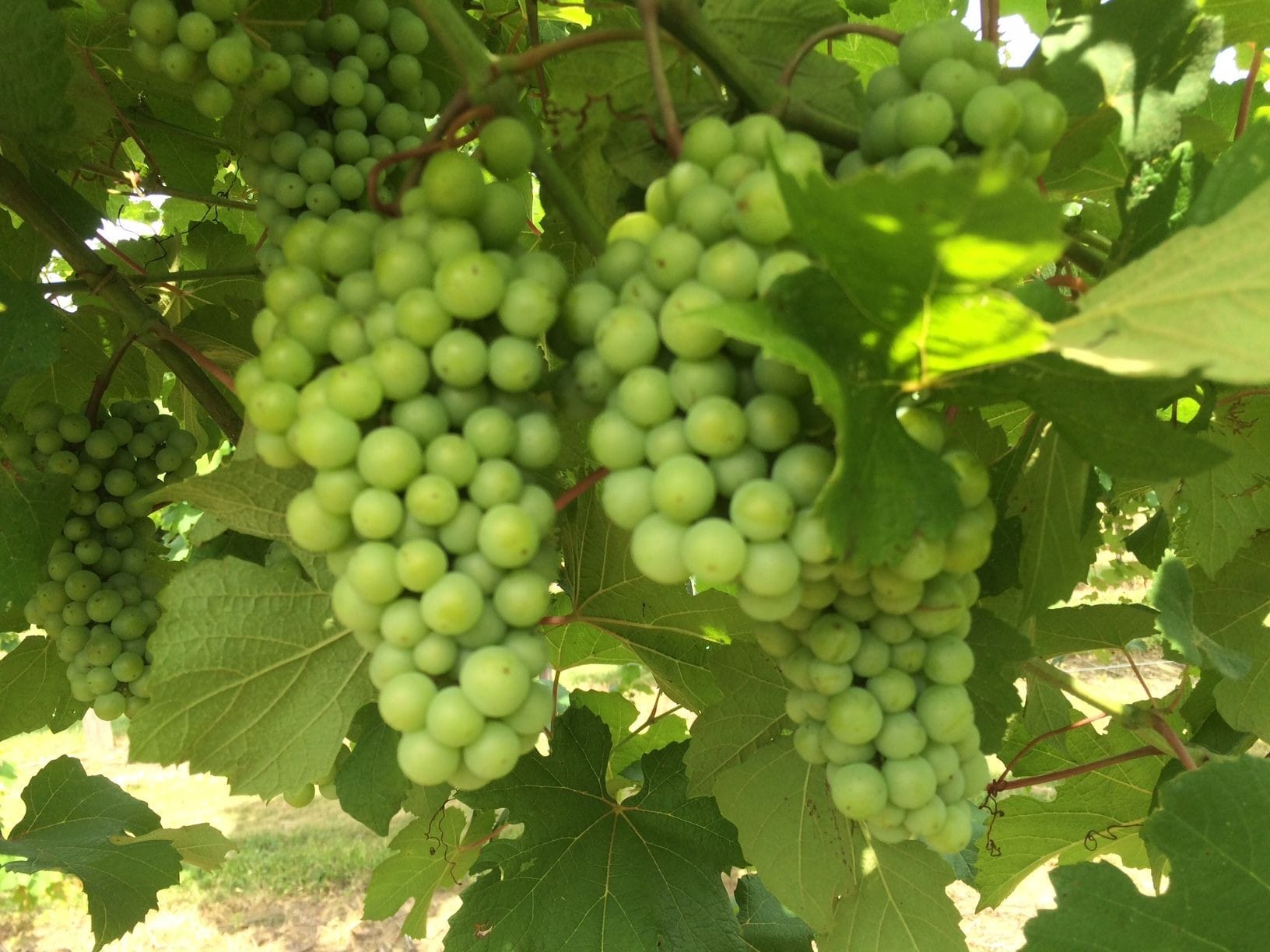 Cabernet Sauvignon X Norton
One of Cabernet Sauvignon's parents is Sauvignon Blanc, and Cabernet Doré's vine and wine strongly resembles that of Sauvignon Blanc. Makes a remarkably elegant and beautiful wine
if made in accordance with our instructions.
Equally as winter hardy and disease resistant as its sister grape Crimson Cabernet. Ripens very late with high sugar and total acid, and we have not seen any late season rots when kept on a spray schedule. Wants to grow straight up into the air, like Sauvignon Blanc, so it is well adapted to VSP or high wire trellising.
Zinfandel can make a world class red wine, but its reputation suffers from both the "White Zinfandel" craze and the antics of those "wild and crazy" California winemakers who gave it "punny" names (
ad nauseam)
, playing off the word "sin" while competing to see who could make the wine with the highest alcohol. Zinthiana is productive. The bunches are large and cylindrical, and it ripens very late, slightly before the Cab-Norton crosses. Although Zinthiana can be used to make a light dry red wine, its best use, we have found is to make a totally dry Rosé, a wine that is rapidly gaining in popularity and one where Zinthina can rival any made in Europe.
A Few of the Many Reviews and Emails for DVR Vines
"This [LaChance Vineyard] Crimson Cabernet is a real powerhouse of a wine and in my opinion, it is one of the most spectacular wines that I have ever tasted. .... There is a reason why this is one of my favorite wines of all time and I guarantee you will love it."
From: http://movinojourney.weebly.com/blog/wine-review-lachance-vineyards-crimson-cabernet (Review, Feb 2016)
~~~~~~~~~~~~~~~~~~~~~~~~~~~~~~~~~~~~~~~~~~~~~~~~~~~~~~
"Dry-yet-fruity medium body and a sleek, complex, long finish.
A remarkably vivacious, balanced, and mouthwatering red
with great versatility and food affinity."
Beverage Testing Institute - Crimson Cabernet - 2015
~~~~~~~~~~~~~~~~~~~~~~~~~~~~~~~~~~~~~~~~~~~~~~~~~~~~
"The DVR vines have been 'stars' this year. They are all alive and doing well. The Norton is also on track. I will have very little Vidal Blanc, which really surprises me since so much is grown in the north. All of the vinifera, Cab sauv, Mourvedre, Viognier and Pinot gris was frozen back to the graft. We are still deciding what to keep, if any."
C. E. - Lexington, Kentucky, May 2014
~~~~~~~~~~~~~~~~~~~~~~~~~~~~~~~~~~~~~~~~~~~~~~~~~~~~ "Thanks for the heads up. Crimson Cabs look great , no winter kill . They did wake up a couple weeks later which was good. Thanks Again."
Kevin - Missouri, June 2014
~~~~~~~~~~~~~~~~~~~~~~~~~~~~~~~~~~~~~~~~~~~~~~~~~~~~
"The harvest went great. The Chemistry was:
Crimson Cabernet
pH=3.48 BX=22.7 TA=0.69
Cabernet Dore'
pH=3.41 BX=23.2 TA=0.87
And the flavors are really great."
B.P. - Indiana, Oct 9, 2015
~~~~~~~~~~~~~~~~~~~~~~~~~~~~~~~~~~~~~~~~~~~~~~~~~~~~~~
"Just wanted to drop you a line and tell you how great the (2018)
Crimson Cabernet vines performed this year. Most of the trunks are about 1/2" in diameter, and a strong 3/8" Cordon growing to one side. I only had 3 vines that didn't make it. I'll be ready for the rest of our order next spring. Thanks again!"
J.S. - Georgia - October, 2020
~~~~~~~~~~~~~~~~~~~~~~~~~~~~~~~~~~~~~~~~~~~~~~~~~~~
"I wanted to take a second and send you an update on our vines.
They have grown so fast, I'm wondering if you gave me kudzu!!
Either that, or magic beans from Jack and the Beanstalk. :)
In all seriousness, the vines have performed great, and all I've had
to do is apply Seven to control Japanese beetles."
R.H. - Georgia, August 1st 2018
~~~~~~~~~~~~~~~~~~~~~~~~~~~~~~~~~~~~~~~~~~~~~~~~~~~~~
"The (2018) Crimson Cabernet plants we got from you grew great
this summer, most are up to 6 ft tall and look nice and healthy."
H.B. - Nebraska, December 2018
Crimson Caberent - Best Red Wine - Double Gold
Crimson Caberent - Northern Georgia 2020