Crimson Cabernet
,
Cabernet Dore'
,
Zinthiana
How to become a DVR grower
We prefer that you call anytime, 7 days a week 618-946-3517. We always like to talk to new growers. We will tell you what information we need, and then we will mail you the contract and a non-propagation agreement. If you Email us at
Walt500@aol.com
we will need your mailing address, delivery address, phone number variety of grape ordered and quantity.
All vines are $4.55 plus a 45 cent royalty.
We contract with a large wholesale nursery to grow our vines. In order to keep labor and other costs to a minimum they do require us to keep orders to 600 vines or more. This can include more than one variety.
All vines are green growing plants in bio-degradable containers delivered by us in an air-conditioned van. ORDER GUIDES BELOW -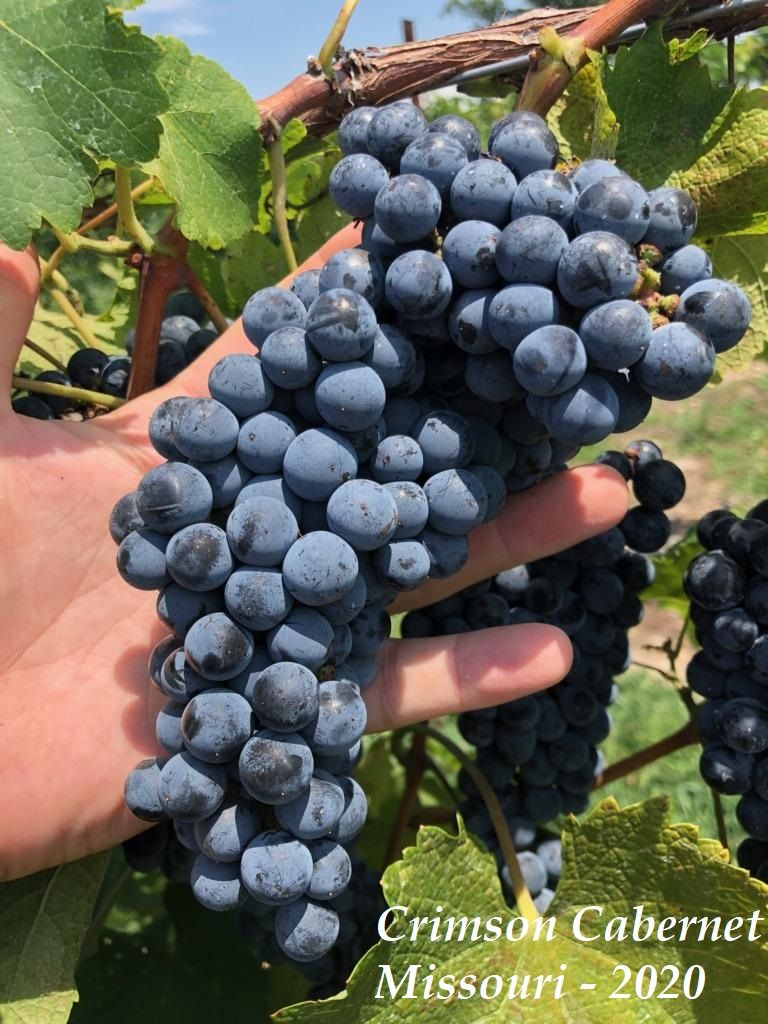 A Wine Grape Grower's Guide for Growing Grapes
in the Eastern United State
s
Whether you are an experienced grape grower, or totally new to the field, this is the one essential guide you must have if you are planting grapes anywhere in the eastern U.S., from Canada to the Gulf.
East of Eden
is unique. It offers clear and precise instructions on how to best accomplish each task, complete with phone numbers and websites for suppliers. This is not an academic text book that can sometimes leave the reader bewildered by too many different ways to do too many different tasks. It is a guide, a practical "how-to" book, founded on hundreds of years of combined experienced of growers in the Midwest, East, North and South. This guide is so important, and inexpensive, that we would love to give it away free with every order, but we have learned over the years that
"nobody will read a free book"
and that is the
only
reason we ask for a buy-in by the grower. We sell it at our cost to print, box and mail.
TO ORDER: Email us at Walt500@aol.com We will mail you the guide(s) and an invoice. PRICE: $30 each/ free shipping.
The DVR Guide for Making Gold Medal Dry Wine
Designed for the serious professional winemaker who has the resources and the desire to make world class European style dry wines. This is not a book for the amateur, the half-hearted, the incurious, or the indiscriminate. There is a slew of books on the internet that serves that market.
Go for the Gold
is an opinionated, no-nonsense, guide through the jungle of winemaking based on over 55 years' experience winning numerous Gold Medals in all major national competitions as well as a Gold Medal from the International Wine and Spirits Competition awarded at the British House of
Commons, in London, England. The authors' wine was also selected as a Gourmet Magazine Wine of the Month, and won a Gold at the only National Norton Festival ever held.
Go for the Gold
always gives the names and contact information for the preferred suppliers of any of the products it recommends … as well as pointing out those to avoid. When it comes to making dry white wine, in particular,
Go for the Gold
is far more than a "guide". It is rather a
map though a mine-field
where one misstep can turn gold into bronze, or worse.
Go for the Gold
is a must-have
vade mecum
for the serious professional winemaker.
TO ORDER: Email us at Walt500@aol.com We will mail you the guide(s) and an invoice. PRICE: $30 each/ free shipping.